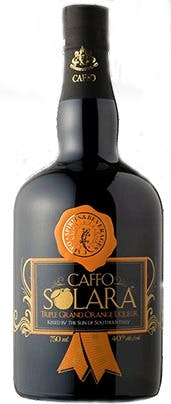 SKU: 24523
Caffo Solara Orange Liqueur
---
---
Solara is a prestigious, sweet and aromatic liqueur based on brandy which was aged in oak barrels. Each drop of Solara encloses the fragrance of the best sweet and bitter oranges that grow sun kissed in the south of Italy. Solara is a versatile liqueur which can be drank smooth, on the rocks or as the main ingredient in the best citrus cocktails.
Made with brandy and oranges from southern Italy, this orange liqueur is rich and authentic, with orange peel and blossom aromas and flavors as well as a long, vanilla-forward finish. A flicker of alcohol-derived heat balances out the sweetness. Savor it as a delicious finish to a meal or use it as a versatile cocktail mixer.
Please Note: The Vineyard is not responsible for wine that arrives damaged due to heat or cold.