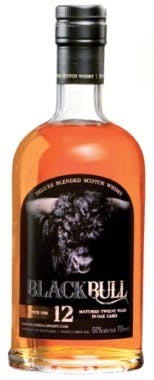 SKU: 18049
Black Bull Blended Scotch Whisky 12 year old
---
---
This special blend is a marriage of the finest 12 year old single malt and single grain whiskies distilled in Scotland. The selection of whiskies falls true to the Duncan Taylor ethic of unbridled quality, each whisky from each cask is nosed and tasted before going into the Black Bull vatting. Like its older brother, Black Bull 12yo is 50% malt, 50% grain and bottled at 50% alc/vol. Color: Full Amber Nose: Robust, chunky aromas. Chocolate, toffee, sherry, vanilla and lemon sherbet. Flavor: Smooth, mellow and rounded. Milk chocolate, treacle toffee, pears, green apples and lots of sweet vanilla. Finish: Some heavier fruity notes emerge, and lots of creamy notes coming through. Comment: A very creamy whisky with a lot fruity toffee notes.
At first, this whisky reads as sweet, with loads of vanilla, but finishes dry with sparks of ginger and cloves and lingering notes of dark chocolate and burnt toffee. Surprisingly balanced for a cask-strength spirit.
Please Note: The Vineyard is not responsible for wine that arrives damaged due to heat or cold.