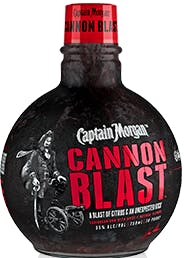 SKU: 20822
Captain Morgan Cannon Blast
---
---
Captain Morgan's Cannon Blast Spiced Rum is an intensely delicious shot that is citrus sweet with a spark of heat. The sweet citrus delivers a pleasing and delicious front end, while providing a finish with a warming (but not overwhelming) sensation. Not into shots? No problem. You won't be disappointed in using Cannon Blast in one of your favorite cocktails. Check out the recipe inspiration below for some of our favorites.
Packaged in a hefty, heavy bottle shaped like a cannon ball-a bit awkward to hold and pour-the liquid is amber-orange and has pleasing caramel and orange peel scents. It sips relatively sweet and viscous, with a warming, spicy finish of cinnamon and allspice. Overall, it's almost liqueur-like and goes down easy.
Please Note: The Vineyard is not responsible for wine that arrives damaged due to heat or cold.