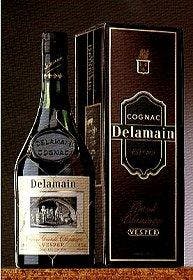 SKU: 8826
Delamain Vesper
---
---
This Cognac offers an initially oaky bouquet followed by an intense fragrance. On the palate it is very mellow, with floral and spice aromas giving way to woody herbs, raisins and other dried fruits and vanilla. Comprised solely of Grande Champagne eaux-de-vie. Blend of 30- to 35-year-old Cognacs. Aged in old, 350-liter Limousin oak barrels. No caramel or sugar added; all-natural.
Lots of wood in the initial whiffs, then with aeration a gentle grapiness comes to dominate. Palate entry is graceful, semisweet and moderately candied; at midpalate, there's a pleasing juiciness/fruitiness that's alluring; I even note a delicate touch of honey in the tail end. Finishes elegantly.
Please Note: The Vineyard is not responsible for wine that arrives damaged due to heat or cold.