WhistlePig The Boss Hog 4th Edition The Black Prince 14 year old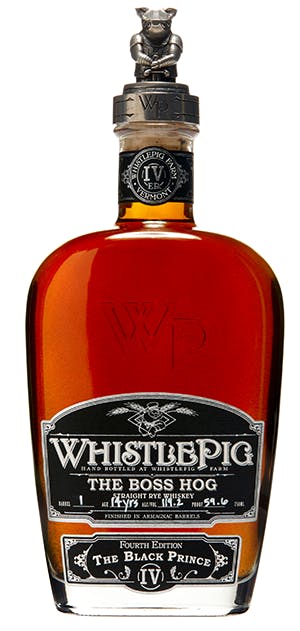 The Boss Hog IV: The Black Prince is a tribute to the great spirits of Europe. This is the first rye whiskey ever finished in Armagnac casks, Straight from France. The whiskey speaks for itself - showcasing a unique blend of sweet and spiced flavors with a fine balance between American power and French sophistication. There is nothing quite like it. Nose: Mulled cider, cardamom, candied ginger and a touch of piper tobacco. Caramel, vanilla and gentle Rye spice develops with time in the glass. Palate: Maple syrup and pears are balanced by dark chocolate and French oak spice. With water, the spice moves front and center and a vibrant, fruit-forward character develops. Finish: Exceptionally long, with burnt sugar, toasted marshmallows, dried fruits and a gentle oak spice.
Please Note: The Vineyard is not responsible for wine that arrives damaged due to heat or cold.