Exitus Red Wine 2016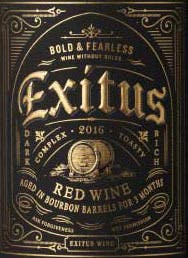 Our bourbon barrel aged red wine is fermented in American stainless steel and then aged for 3 months in Kentucky bourbon barrels. This bold blend of Zinfandel, Petit Verdot, and Cabernet Sauvignon provide a deep ruby color with aromas of blackberry compote, leather and dusty dark chocolate. Bourbon barrel aging offers aromas of fire-toasted oak, baking spices, caramel and loose-leaf tobacco. On the shelf, you may notice that Exitus doesn't look like your typical bottle of red wine. That's because we don't hide behind tinted glass. Why should you have to wait until your first pour to experience the rich crimson hue of our bourbon barrel aged blend? Instead of traditional shaded bottles that mask the color of the wine inside, we insisted on doing things our way. Exitus bucks tradition with a clear glass bottle that showcases what matters most.
Please Note: The Vineyard is not responsible for wine that arrives damaged due to heat or cold.