Booze from Boston
Friday November 22, 2019 5:30 PM - 7:30 PM
A Taste of The Vineyard
Dave Gallagher of Bully Boy Distillery will be at The Vineyard with an interesting supply of Spirits from this great local distiller!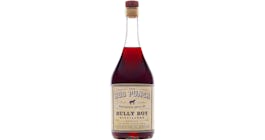 Inspired by the original Hub Punch recipe popular in the late 1800's, Bully Boy Hub Punch, our barrel aged rum infused with fruits and botanicals, revives a historic Boston tradition that was a casualty of Prohibition. Originally concocted at the now defunct Hub Hotel, Bostonians typically enjoyed Hub Punch mixed with soda water, ginger ale, or lemonade. Bully Boy consulted a variety of historical accounts of Hub Punch to craft a spirit that pays homage to the traditional recipe and spirit of the pre-prohibition era Boston. Bully Boy Hub Punch is fruit forward with the botanicals providing tea-like undertones ideal for mixing with both dry and sweet mixing agents.
$27.99

Bully Boy's aged whiskey uses corn, rye, and malted barley as its primary ingredients, and is aged in new American Oak. The corn makes for subtle sweetness, and the high rye content creates a dry spiciness; the flavors are further refined through the barrel-aging process, which imparts both a prominent caramel note and a nutty finish. An excellent sipping whiskey. As with all our spirits, our whiskey is made in small, numbered batches, so you know you are getting a truly unique spirit.
$33.99
---